Posts for tag: oral hygiene
By Dr. Aaron Tropmann & Dr. Gary Oyster
December 03, 2018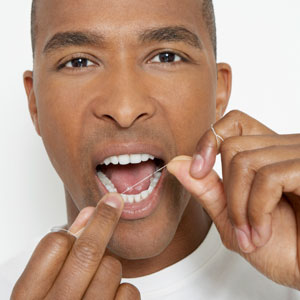 A couple of years ago the Associated Press published an article claiming the health benefits of flossing remained unproven. The article cited a number of studies that seemed to conclude the evidence for the effectiveness of flossing in helping to prevent dental disease as "weak."
As you can imagine, dental providers were a bit chagrined while flossers everywhere threw away their dental floss and happily declared their independence from their least favorite hygiene task. It would have seemed the Age of Flossing had gone the way of the dinosaurs.
But, the demise of flossing may have been greatly exaggerated. A new study from the University of North Carolina seems to contradict the findings cited in the AP article. This more recent study looked at dental patients in two groups—those who flossed and those who didn't—during two periods of five and ten years respectively. The new study found conclusively that the flosser group on average had a lower risk of tooth loss than the non-flossers.
While this is an important finding, it may not completely put the issue to rest. But assuming it does, let's get to the real issue with flossing: a lot of people don't like it, for various reasons. It can be time-consuming; it can be messy; and, depending on a person's physical dexterity, difficult to perform.
On the latter, there are some things you can do to make it a less difficult task. You can use a floss threader, a device that makes it easier to thread the floss through the teeth. You can also switch to an oral irrigator or "water flosser," a pump device that sprays a fine, pressurized stream of water to break up plaque between teeth and flush most of it away. We can also give you tips and training for flossing with just your fingers and thread.
But whatever you do, don't give up the habit. It may not be your most favorite hygiene task but most dentists agree it can help keep your teeth healthy for the long-term.
If you would like more information on the benefits of flossing, please contact us or schedule an appointment for a consultation.
By Dr. Aaron Tropmann & Dr. Gary Oyster
September 14, 2018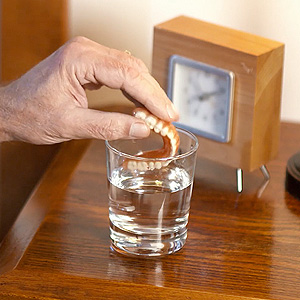 Dentures can be an effective and affordable solution for people who've lost all their teeth. With them a person can once again eat nutritiously, speak clearly and smile confidently — and with regular care they can last for years.
As part of that ongoing care, be sure you consider one important thing with your dentures: you may want to take them out at night while you sleep. If you do you'll lessen your chances of developing these 4 health problems.
Accelerated bone loss. Traditional dentures are fitted to rest securely on the gums. This, however, creates pressure on the gums and the bony ridges beneath them that can contribute to bone loss. Wearing dentures around the clock usually accelerates this process, which could eventually lead to among other problems looser denture fit and discomfort.
Bacterial and fungal growth. Microorganisms that cause oral diseases find conducive breeding spots on the underside of dentures while they're worn in the mouth. Studies have found that people who continuously wear their dentures are more likely to have bacterial plaque and oral yeast than those that don't.
Potentially dangerous infections. Bacterial and fungal growth increases your risk of oral infections that could affect more than your mouth. A recent study of elderly nursing home residents found those who wore their dentures during sleep were over twice as likely to develop serious cases of pneumonia requiring hospitalization. It's believed bacteria harbored on the dentures can pass from the mouth to the lungs as a person breathes over them while they sleep.
Blocked salivary flow. During the night our salivary flow naturally ebbs; wearing dentures while we sleep could cause denture stomatitis, in which the tissues covered by a denture (particularly along the roof of the mouth) become inflamed and infected with yeast. It's often accompanied by angular cheilitis or cracking at the corners of the mouth that becomes infected by the same yeast.
Wearing your dentures while you sleep contributes to conditions ranging from irritating to life-threatening. To prevent such problems clean your dentures as well as the rest of your mouth regularly — and talk to your dentist whether you should leave them out when you go to bed.
If you would like more information on denture care, please contact us or schedule an appointment for a consultation. You can also learn more about this topic by reading the Dear Doctor magazine article "Sleeping in Dentures."
By Dr. Aaron Tropmann & Dr. Gary Oyster
April 27, 2018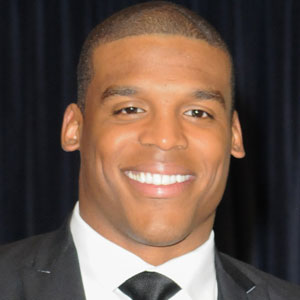 When is the best time to floss your teeth: Morning? Bedtime? How about: whenever and wherever the moment feels right?
For Cam Newton, award-winning NFL quarterback for the Carolina Panthers, the answer is clearly the latter. During the third quarter of the 2016 season-opener between his team and the Denver Broncos, TV cameras focused on Newton as he sat on the bench. The 2015 MVP was clearly seen stretching a string of dental floss between his index fingers and taking care of some dental hygiene business… and thereby creating a minor storm on the internet.
Inappropriate? We don't think so. As dentists, we're always happy when someone comes along to remind people how important it is to floss. And when that person has a million-dollar smile like Cam Newton's — so much the better.
Of course, there has been a lot of discussion lately about flossing. News outlets have gleefully reported that there's a lack of hard evidence at present to show that flossing is effective. But we would like to point out that, as the saying goes, "Absence of evidence is not evidence of absence." There are a number of reasons why health care organizations like the American Dental Association (ADA) still firmly recommend daily flossing. Here are a few:
It's well established that when plaque is allowed to build up on teeth, tooth decay and gum disease are bound to follow.
A tooth brush does a good job of cleaning most tooth surfaces, but it can't reach into spaces between teeth.
Cleaning between teeth (interdental cleaning) has been shown to remove plaque and food debris from these hard-to-reach spaces.
Dental floss isn't the only method for interdental cleaning… but it is recognized by dentists as the best way, and is an excellent method for doing this at home — or anywhere else!
Whether you use dental floss or another type of interdental cleaner is up to you. But the ADA stands by its recommendations for maintaining good oral health: Brush twice a day for two minutes with fluoride toothpaste; visit your dentist regularly for professional cleanings and checkups; and clean between teeth once a day with an interdental cleaner like floss. It doesn't matter if you do it in your own home, or on the sidelines of an NFL game… as long as you do it!
If you would like more information about flossing and oral hygiene, contact us or schedule an appointment for a consultation.