Posts for tag: dental implants
By Dr. Aaron Tropmann & Dr. Gary Oyster
November 23, 2018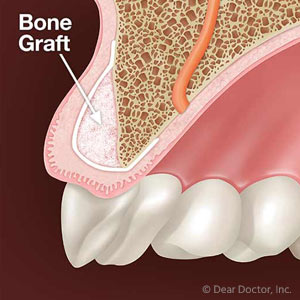 Due to financial circumstances, people often have a lost tooth restored with a removable partial denture, an effective appliance that restores function and a degree of aesthetic appearance. Later, though, they may want to improve both function and appearance with a dental implant.
If this describes you, you're making a great choice. Dental implants are the closest technology we have to a natural tooth. But there may be a roadblock to your implant, especially if a long time has passed since your tooth loss—there may not be enough bone at the site to place an implant.
The heart of an implant is a titanium metal post surgically imbedded in the jawbone. The titanium naturally attracts bone cells, which grow and adhere to it to form a solid hold that can support a porcelain crown or other restorations like bridges or dentures. But to achieve a natural appearance it's important that the implant is placed in the right location. To achieve that requires adequate bone.
But there may not be adequate bone if the tooth has been missing for a while. The forces generated when we chew travel through the teeth to the jawbone, which stimulates bone growth. If that stimulus is absent because of a missing tooth, new bone cells may not replace older ones at a healthy rate and the total bone volume begins to diminish. A denture can't compensate and, in fact, accelerates bone loss.
But there may be a solution: bone grafting. With this procedure we place a donor bone graft into the area of bone deficiency some time before implant surgery. The graft serves as a scaffold for new bone cells to grow upon. Hopefully, this will produce enough healthy bone to support an implant. If the bone deficiency is minor, we may place the implant and the bone graft at the same time.
If you have experienced bone loss, we must first determine the amount of bone at the missing tooth site and whether grafting is a viable option. Bone grafting postpones your implant, but the delay will be worth the wait if we're successful. With increased bone volume you'll be able to obtain a new tooth that's superior to your current restoration.
If you would like more information on dental implants, please contact us or schedule an appointment for a consultation.
By Dr. Aaron Tropmann & Dr. Gary Oyster
July 06, 2018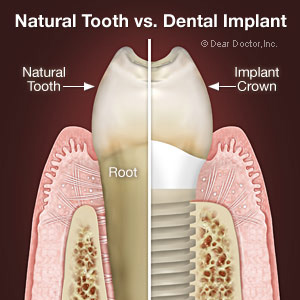 Probably a day doesn't go by that you don't encounter advertising for dental implants. And for good reason: implants have taken the world of dentistry by storm.
Since their inception over thirty years ago, implants have rocketed ahead of more conventional tooth replacements to become the premier choice among both dentists and patients. But what is an implant—and why are these state-of-the-art dental devices so popular?
Resemblance to natural teeth. More than any other type of dental restoration, dental implants mimic both the appearance and function of natural teeth. Just as teeth have two main parts—the roots beneath the gum surface and the visible crown—so implants have a similar construction. At their heart, implants are root replacements by way of a titanium metal post imbedded in the jawbone. To this we can permanently attach a life-like porcelain crown or even another form of restoration (more about that in a moment).
Durability. Implant materials and unique design foster a long-term success rate after ten years in the 95-plus percentile. They achieve this longevity primarily due to the use of titanium as the primary metal in the implant post. Because bone has an affinity for titanium, it will grow and adhere to the post over time to create a well-anchored hold. With proper maintenance and care implants can last for decades, making them a wise, cost-effective investment.
Added stability for other restorations. While most people associate implants with single tooth replacements, the technology has a much broader reach. For example, just a few strategically-placed implants can support a removable denture, giving this traditional restoration much more security and stability. What's more, it can help stop bone loss, one of the main drawbacks of conventional dentures. In like fashion, implants can support a fixed bridge, eliminating the need to permanently alter adjacent teeth often used to support a conventional bridge.
With continuing advances, implant technology is becoming increasingly useful for a variety of restorative situations. Depending on your individual tooth-loss situation, dental implants could put the form and function back in your smile for many years to come.
If you would like more information on dental implant restorations, please contact us or schedule an appointment for a consultation. You can also learn more about this topic by reading the Dear Doctor magazine article "Dental Implants: Your Best Option for Replacing Teeth."
By Dr. Aaron Tropmann & Dr. Gary Oyster
May 17, 2018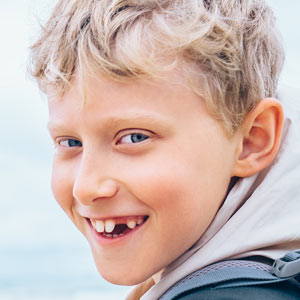 There's a lot to like about replacing a missing tooth with a dental implant. This state-of-the-art restoration is by far the most durable and life-like option available. And unlike other replacement options implants stimulate bone growth, a major concern after tooth loss.
For that reason we encourage getting an implant as soon as possible — for adults, that is. We don't recommend implants for younger patients because even a teenager's jaws haven't yet reached full maturity. Because it attaches to the jaw differently, an implant can't move with the growing jaw as real teeth do. It would eventually look as if it were sinking into the jaw below the gum line or being left behind as the rest of the jaw grows.
It's best, then, to postpone placing an implant until the jaw fully matures, usually in a patient's early twenties. In the meantime, there are some things we can do to prepare for a future implant while also restoring the tooth with a temporary replacement.
As previously mentioned, our biggest concern is bone health. Like other living tissue, bone has a growth cycle of older cells dissolving and newer ones forming in their place. The teeth transmit the pressure produced when we chew to the bone to stimulate this growth. With the absence of a tooth, the adjacent bone no longer receives this stimulation — the growth cycle slows and may eventually lead to bone loss.
We can help this situation by placing a bone graft in the missing tooth socket at the time of extraction. The graft serves as a scaffold that's eventually taken over and replaced by new bone growth. We can also try to control how fast the graft is replaced by using grafting material that's slowly removed and lasts longer — often a preferable situation if an implant is years away.
As for appearance, we can create a custom partial denture or even a type of bridge that bonds a prosthetic tooth to neighboring teeth without significantly altering them. If the patient undergoes orthodontic treatment it's also possible to add prosthetic teeth to an orthodontic appliance.
Eventually, we'll be able to provide the permanent solution of a dental implant. With careful planning and measures to preserve bone health, there's a good chance the outcome will be worth the wait.
If you would like more information on treatments for lost teeth in children and teenagers, please contact us or schedule an appointment for a consultation. You can also learn more about this topic by reading the Dear Doctor magazine article "Dental Implants for Teenagers."