Posts for: September, 2020
By Dr. Aaron Tropmann & Dr. Gary Oyster
September 13, 2020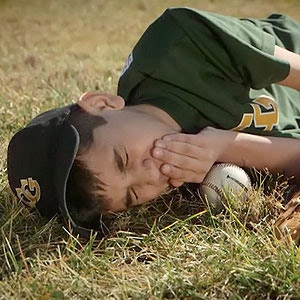 We Americans love our sports, whether as participants or spectators. But there's also a downside to contact sports like soccer, football or basketball: a higher risk of injury, particularly to the mouth and face. One of the most severe of these is a knocked out tooth.
Fortunately, that doesn't necessarily mean it's lost: The tooth can be reinserted into the empty socket and eventually return to normal functionality. But it must be done as soon as possible after injury. The more time elapses, the lower the chances of long-term survival.
That's because of how teeth are held in place in the jaw, secured by an elastic, fibrous tissue known as the periodontal ligament. When a tooth is knocked out some of the ligament's periodontal cells remain on the tooth's root. If these cells are alive when the tooth is reinserted, they can regenerate and reestablish attachment between the ligament and the tooth.
Eventually, though, the cells can dry out and die. If that has already happened before reinsertion, the tooth's root will fuse instead with the underlying bone. The tooth may survive for a short time, but its roots can eventually dissolve and the tooth will be lost.
Your window of opportunity for taking advantage of these live periodontal cells is only 5-20 minutes with the best chances in those earlier minutes. You should, therefore, take these steps immediately after an injury:
Find the tooth, hold it by the crown (not the root end), and rinse off any debris with clean water;
Reinsert the root end into the empty socket with firm pressure;
Place clean gauze or cloth in the person's mouth between the tooth and the other jaw, and ask them to bite down gently and hold their bite;
Seek dental or emergency medical care immediately;
If you're unable to reinsert the tooth, place it quickly in a container with milk and see a dentist immediately.
You can also obtain an Android or IOS smartphone app developed by the International Association of Dental Traumatology called ToothSOS, which will guide you through this process, as well as for other dental emergencies. The quicker you act, the better the chances that the injured person's knocked out tooth can be rescued.
If you would like more information on what to do in a dental emergency, please contact us or schedule an appointment for a consultation. You can also learn more about this topic by reading the Dear Doctor magazine article "When a Tooth is Knocked Out."
By Dr. Aaron Tropmann & Dr. Gary Oyster
September 03, 2020
Millions of people have obstructive sleep apnea—and some don't even realize it. That's because even though these airway-blocking episodes can occur several times a night, they may only last a few seconds. The brain rouses the body just long enough to open the airway but not long enough to awaken the person to consciousness.
Even though a person with sleep apnea might not remember what happened to them, they can still experience the effects of sleep disturbance: drowsiness, irritability or an inability to focus. Over time, the accumulation of "bad sleep" could increase their risk for heart disease or other life-threatening conditions.
But there are effective ways to alleviate or lessen obstructive sleep apnea. The main "go-to" treatment is a method called continuous positive airway pressure (CPAP). CPAP utilizes an electric pump that supplies a constant flow of pressurized air through a mask worn by the patient while sleeping. The increased air pressure around the throat helps keep the airway open.
But although it's effective, CPAP is unpopular with many people who have tried it. Many find the hose and other equipment cumbersome, or the mask too uncomfortable or restrictive to wear. As a result, quite a number simply avoid using it.
If you've had a similar experience with CPAP or would rather explore other options, we may have an alternative: an oral appliance you wear while you sleep. It can help prevent or lessen symptoms in cases of mild to moderate airway obstruction caused by the tongue or other forms of tissue.
Sleep apnea appliances come in two basic forms. One uses metal hinges to help move the lower jaw and tongue forward. The other form has a compartment that fits around the tongue and applies suction to help keep the tongue moved forward.
These appliances may not be suitable for patients with severe sleep apnea or whose cause is something other than a physical obstruction like abnormal neurological signaling patterns. But where they are appropriate, they can be an effective alternative to CPAP and the key to a better night's sleep.
If you would like more information on this dental solution for sleep apnea, please contact us or schedule an appointment for a consultation. You can also learn more about this topic by reading the Dear Doctor magazine article "Oral Appliances for Sleep Apnea."