Posts for: April, 2019
By Dr. Aaron Tropmann & Dr. Gary Oyster
April 12, 2019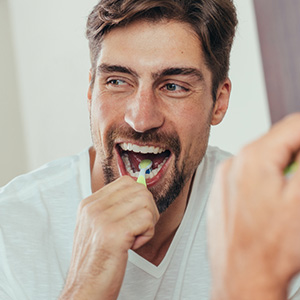 Today's dental restorations are truly amazing. Not only are they life-like and functional, they can endure for many years a hostile environment of bacteria, acid and heavy biting forces.
Even so, you'll still need to take care of your restorations to help them last. Here's how to extend the life of 3 common forms of dental work.
Fillings. We use fillings, both metal amalgam and tooth-colored materials, to repair holes or cavities in teeth caused by tooth decay. Although strong, dental fillings can break if you subject them to abnormally high biting force (like chewing ice). There's also a chance that if a slight separation occurs between the filling and tooth, bacteria can take up residence and reignite the decay process. To prevent this, practice a daily regimen of oral hygiene to clean away bacterial plaque—and reduce sugar in your diet, a prime food source for bacteria.
Veneers. Usually made of thin porcelain, veneers are bonded to the front of teeth to mask chips, stains, gaps or other blemishes. But although they're strong, veneers aren't immune to damage. Habits like biting nails, the aforementioned ice chewing or unconsciously grinding your teeth could cause a chipped veneer. And if periodontal (gum) disease causes your gums to recede, the exposed part of the tooth may look noticeably darker than the veneer. To protect your veneers and their appearance, avoid habits like ice chewing, and seek treatment for teeth grinding and dental disease.
Bridgework. Bridges are used to replace one or more missing teeth. Traditional bridges use the natural teeth on either side of the gap to support the bridge; for a single missing tooth, implants are a preferable option because they don't require permanently altering the neighboring teeth to support it. With either option, though, you should brush and floss around the restoration to reduce the risk of dental disease. Infections like gum disease or tooth decay could eventually weaken the bridge's supporting teeth or gum disease can damage an implant's gum and bone support.
With any dental restoration, be sure to practice daily oral hygiene, eat a nutritious, low-sugar diet, and see your dentist regularly for cleanings and checkups. Taking care of your dental work will help it take care of you for a long time to come.
If you would like more information on maintaining your dental restorations, please contact us or schedule an appointment for a consultation.
By Dr. Aaron Tropmann & Dr. Gary Oyster
April 02, 2019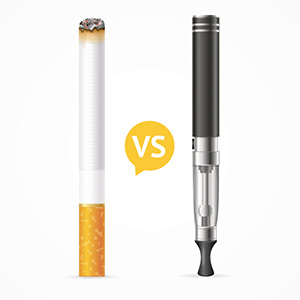 More than 20 million people in the United States use electronic cigarettes or e-cigs as an alternative to tobacco smoking. While many users believe "vaping" is a healthier alternative to regular cigarettes, recent research into the health effects of e-cigs could put a damper on that belief. There's particular concern among dentists that this popular habit could harm users' dental health.
E-cigs are made with a chamber that holds the liquid vaping solution and a heating mechanism to heat the liquid and vaporize it. Users inhale the vapor, which contains nicotine and flavorings, as they would a traditional cigarette.
The nicotine alone can be problematic for dental health as we'll see in a moment. But the vapor also contains aerosols that some research indicates could damage the inner skin linings of the mouth in a similar fashion to the smoke of traditional cigarettes. One study by researchers with the Université Laval in Quebec, Canada found evidence that e-cig vapor increased the death rate of mouth cells, and led to greater cell irregularities over time.
According to other studies, there's evidence that e-cig vapor may disrupt the balance of the oral microbiome, the communities of both beneficial and harmful bacteria that normally live in the mouth. The imbalance in favor of more harmful bacteria could increase the risk for dental disease, particularly periodontal (gum) disease.
Finally, nicotine from e-cigs seemed to create similar conditions in the mouth as it does with tobacco. Nicotine in any form can constrict blood vessels and reduce the body's ability to fight infection and to heal. Research indicates both forms of nicotine increase the risk for dental disease and make treatment more difficult.
These findings only identify conditions created by e-cigs that could be problematic for future dental health. Although we don't fully understand the long-term health effects of this new habit, based on the evidence so far the mouth may not fare so well. It's looking like e-cigs may be no safer for your teeth and gums than the cigarettes they replace.
If you would like more information on the health risks of electronic cigarettes, please contact us or schedule an appointment for a consultation.